Dr Areti Plitas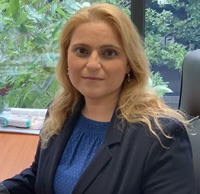 Dr Areti Plitas
Psychologist
Allied Health, Psychology
Psychology is a profession dedicated to understanding how people think, feel, behave and learn. Click here for more information.
Registered Psychologist and endorsed Clinical Neuropsychologist, Dr Areti Plitas, offers individual adult psychological consultations. Areti has a Doctor of Psychology (Clinical Neuropsychology) from Victoria University, 2007.
Areti provides general psychological consultations and focused psychological strategies to adults who may be experiencing a number of difficulties including symptoms of depression, anxiety, difficulty adjusting to major life changes, disturbance in sleep and stress.
During your initial psychological consultation a thorough clinical interview is conducted. This provides you with the opportunity to reflect if psychological therapy would be helpful for you. The clinical interview also enables Areti to collect relevant information and develop a treatment plan aimed at addressing your presenting issues. This process can assist to identify what you would hope to achieve by attending psychological sessions and strategies that may be helpful for you. Potential focused psychological strategies are further discussed during subsequent psychological consultations. The number of psychological sessions that may be helpful will depend on your particular situation. Discussing difficult thoughts, feelings or experiences can be challenging, and for some uncomfortable at times. However, discussion of. psychological techniques and strategies may assist you to learn helpful thinking and coping skills. Areti has a warm, friendly, supportive and practical approach. She is keen to connect with you, understand your situation and explore with you possible focused psychological strategies that may be helpful.
Please note our medical centre is unable to provide a crisis service. For crisis, or 24 hour support, please contact 000 or Lifeline on 13 11 14.